The Inspiration
By February 2, the "cross-quarter" date, midway between the Winter Solstice and the Spring Equinox, the hours of sunlight have lengthened enough to be noticeable. Spring is coming! Here in the northern latitudes where winter is hard, this time of increasing warmth and light is something to celebrate.

In Gaelic Ireland, it was called Imbolc (which means "in the belly") and marked the onset of the lambing season.

The Celts celebrated Brigid's Day, with emphasis on Brigid's three fires – the fires of hearth and home, the blacksmith fires and the fire of inspiration of the poets and bards.

For the Christians, it became Candlemas, with beeswax candles blessed and burned to celebrate Jesus as the "Light of the World".

For some baffling reason, in North America we ended up with Groundhog Day!

I wanted a new way to celebrate the first glimmer of Spring, so I looked for a 'theme'. It had to be secular, yet spiritual, and it had to have something to do with light, enlightenment, or a new beginning, and tie in with this time of year and be connected to science.

I chose the Pale Blue Dot.
Image credits for this page:
Voyager 1: NASA
Pale Blue Dot video Youtube (there are several versions available.)
You Are Significant: We found several versions of this on the Internet but we have not been able to locate the original source.

Please read: About images and copyright.

R E D E F I N I N G

T H E

S A C R E D:

R E I M A G I N I N G

T H E

H O L I D A Y S
The Pale Blue Dot (February 2)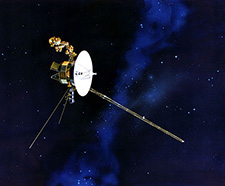 Voyager 1 is currently in inter-stellar space. This artist concept image is from NASA.
At about this time of year, in early February of 1990, the Voyager 1 space probe had just reached the edge of the Solar System. It had been launched 12 years previously and was not expected to continue working much longer although, amazingly, it is still transmitting data back to us, 36 years later!

On that February morning in 1990, when the technicians who devised and transmitted the radio commands to Voyager 1 were being laid off or transferred to other jobs, they agreed to a request from astrophysicist Carl Sagan to turn the Voyager 1 around to take one last picture of the Earth, from six billion kilometers away.

The tiny speck that was the Earth was so small it could barely be seen – much like a slightly bluish dust mote in a sunbeam.

This was the first time humans had been able to see the Earth from such a distance, and it changed our understanding of life on this planet. Carl Sagan expressed this profound revelation beautifully. Hear it in his own voice in the video below. You can read the text version of his comments here.
A new source of 'revealed wisdom'
When that photograph was taken, most of the people in the West had been raised with beliefs that were based on the revealed wisdom of prophets who had lived thousands of years before, namely that the Earth had been created by God and that humans had been created to have dominion over it.

The photograph of the Pale Blue Dot was a new kind of reveled wisdom, and it made people begin to think about the Earth in a new way. Carl Sagan was not the only scientist moved to start speaking out to the world in a way that was filled with awe and wonder, a way that sounded passionately spiritual.

Along with poets and musicians, scientists started exuberantly telling us we are Stardust. See pictures of some of these scientists and read some of their comments here.

How do I 'celebrate' the Pale Blue Dot? By taking time on February 2 to gather with friends for a meal and a time to stop and think and talk about this. We look at the video and read the words and maybe visit the NASA website to find other images or share more recent quotes.

One look at the Pale Blue Dot shows us how vulnerable we are. We can no longer think of the planet as a resource over which we have dominion, we need to see it as something rare and precious, something to be considered Sacred.

We agree with science writer Ann Druyan that the "soaring feeling that we experience when we contemplate 13 billion years of cosmic evolution and four and a half billion years of the story of life on this planet is a Spiritual feeling, stirring in our hearts the kind of emotional gratification that has traditionally come from religions".

We share the passion that Cosmologist Neil deGrasse Tyson expresses when talking about the fact that we are all connected to each other biologically, to the earth chemically and to the rest of the universe atomically, and he says, "I know that the molecules in my body are traceable to phenomena in the cosmos. That makes me want to grab people in the street and say, 'have you heard this?' ".

Then we talk about things we can DO to reflect these feelings, things like not buying bottled water, choosing to reduce our consumerism, reusing and recycling, writing books, sending letters to politicians when we see bad policies, joining protests, spreading the word to others via social media, and so on.

And we end with this message:
You are only one person, out of 7 Billion people on one small planet out of 8 planets circling one small sun out of 100 billion suns in the Milky Way galaxy, which is only one out of 100 billion galaxies, and you are enormously insignificant.

But, at the same time, out of 100 billion galaxies, out of 100 billion star systems, out of 7 billion people, you have your own unique genetic makeup. Your thumbprint is yours alone. You can create art, and write a song and do other things that no-one else in the universe is as uniquely capable of doing. You are depended upon by others who love you.

You are enormously significant!