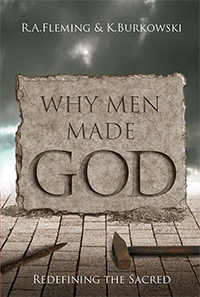 Image credits for this page:
WMMG book cover: Michel Fortin and R. A. Fleming.

Please read: About images and copyright.

W H E R E

T O

B U Y

W H Y

M E N

M A D E

G O D

Why Men Made God is available through Amazon and at most book stores.


You can go directly to the book on Amazon.ca by clicking here: WMMGbook
.


| | |
| --- | --- |
| To go directly to Amazon.com, click the book image: | |
Why Men Made God is also available in eBook format. The Kindle version can be obtained from Amazon.com or Amazon.ca.

If you require an eBook version for NOOK, Kobo or other readers, it can be ordered from Barnes & Noble.