How the Earth formed
If we could cut a window into the Earth to see the core, it might look something like this.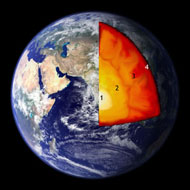 According to geologists:
1. The inner core is extremely hot, made of solid nickel and iron.
2. The outer core is composed of molten nickel and iron, still very hot.
3. The Mantle is composed of lighter minerals and is cooler toward the surface, but still molten under the crust.
4. The cool crust, where we live, is quite thin.

The crust may seem thick to us, when we think of mountains and oceans on top of the crust, but compared to the whole Earth it is very thin.

When some of the molten core breaks through the surface, we get volcanoes.

Image credits for this page:
Molten planet: NASA
Earth core: Composite image. Earth from NASA, idea for core from Marine Science

Please read: About images and copyright.

M Y

P L A C E

I N

T H E

U N I V E R S E

Since planets form from the gasses around stars, planets all contain the same basic elements: carbon, hydrogen, oxygen and nitrogen, plus other elements in small amounts.

About 4.6 billion years ago, the Earth was so hot that the entire planet was molten or liquid.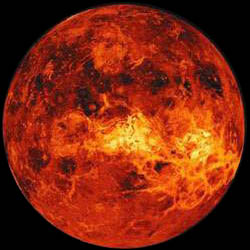 As the Earth cooled, the lightest materials (like basalt) floated to the top to make the Earth's crust, and the heaviest materials (like iron) sank to the center.

Even now, 4.5 billion years later, the Earth's core is still so hot that it is "molten" - which means the rocks and minerals are melted.