Volcanic lightning
On the early Earth there were many sources of lightning. Some, like volcanic lightning, are relatively rare in modern times.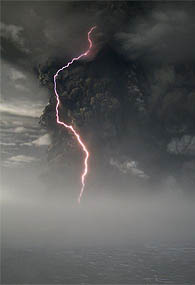 This photo shows lightning streaking through an ash cloud billowing from the erupting Grimsvotn volcano in Iceland on May 22, 2011. Volcanic lightning comes from the same ingredients as lightning in a regular thunderstorm: water droplets, ice, and possibly hail all interacting with each other and with airborne particles—in this case ash from the eruptions—to cause an electrical charge.
How can molecules organize to create life?
This is a complex subject and requires a lengthy explanation. Scientists who study Astrobiology are just beginning to understand how this works. Find out more...
Image credits for this page:
New planets that may support life: European Southern Observatory (ESO)
Lightning flash amid the ash: National Geographic

Please read: About images and copyright.

M Y

P L A C E

I N

T H E

U N I V E R S E
As you learned on page 13, planets have formed, and are still being formed, throughout the Universe.

If the planets are just the right distance from a star so they are not too hot or too cold, these things can happen:
1. water forms on the planet,
2. an atmosphere forms around the planet, and
3. molecules essential to life are formed.
We do not know yet exactly how it happens, but when the elements that make up a planet that is the right distance from a sun and has water and an atmosphere are heated and shaken up just right and zapped with energy, possibly by something like lightening or volcanic action or a meteorite strike, Life can begin.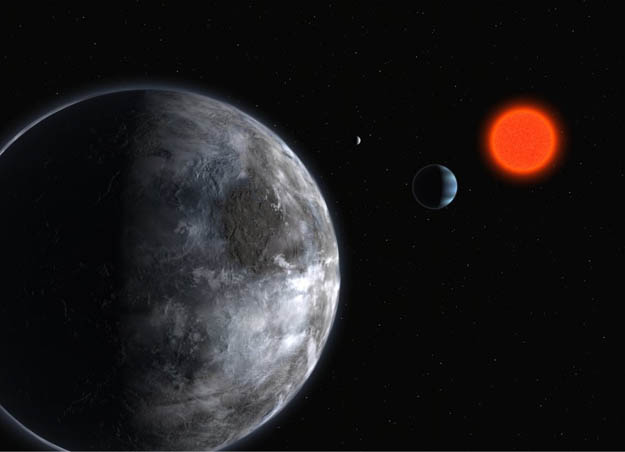 There are other planets in our Galaxy that may support life!

NASA's Kepler Mission is searching for habitable planets, and finding more and more of them all the time.
Find out more about the Kepler mission...