Everything you eat comes from the Earth
The biosphere (all ecosystems on the planet) is the Zone of Life on Earth. Except for incoming solar and cosmic radiation and the occasional meteorite, it is a closed and self-regulating system.

When you eat a hamburger, the molecules in the hamburger will be digested in your stomach and some of them will become part of you. In that hamburger are molecules of the earth and the rain that made the grass that fed the cow that became the meat.

In the bun are molecules of the earth that became the wheat that was made into the bun.

Grocery stores often sell fruits and vegetables that have travelled long distances and contain molecules of the soil and water from a far-away part of the Earth.







Image credits for this page:
Earth seen from Space: NASA

Please read: About images and copyright.

M Y

P L A C E

I N

T H E

U N I V E R S E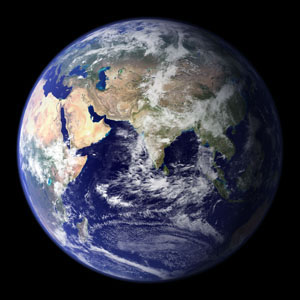 Everything that exists on the Earth came from the molecules that make up the Earth. Every plant, every animal, every rock and drop of water, and every human too. We are part of the Earth. When you take a deep breath, you are breathing some air that once was breathed by dinosaurs. When you touch your skin, you are touching molecules that once were a part of the Earth.

Think, for a moment, about the last meal you ate. Where did those molecules come from?

In a very real way, we are all part of the Earth.