Water appears on the Earth
Water appeared on the young Earth from two sources:

1. Gases were released from molten rock in the crust of the planet by volcanic activity. This was probably the primary source of gases for the early atmosphere.

Since, as you learned on Page 11, there wass both hydrogen (H2) and oxygen (0), water molecules (H20) formed.

2. Comets and meteorites also bring with them gases which contribute to the Earth's atmosphere. At the time when the Earth was forming, it was bombarded by many, many comets and meteorites.


Image credits for this page:
Early Earth: David Finlay

Please read: About images and copyright.

M Y

P L A C E

I N

T H E

U N I V E R S E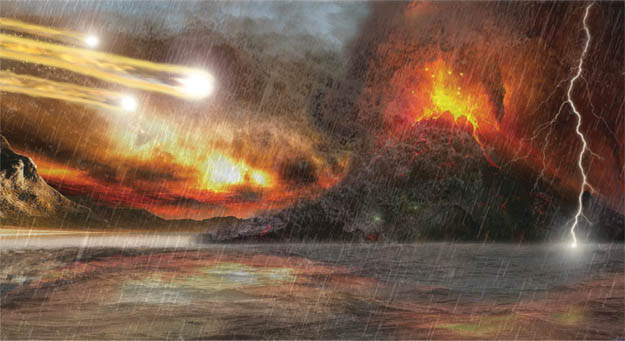 Image copyright © David Finlay. Used by permission.
The water on Earth stayed in gaseous form until the planet's surface cooled below 100 degrees Celsius (boiling temperature). At this time, 3.8 billion years ago, water condensed into rain and poured onto the land in vast, violent storms. Cooling and weathering processes broke the rock down into small, finer pieces of rock to form a covering of soil. Water collected in low-lying areas, which gradually became the oceans.